Amazon Subscribe & Save is a scheduled delivery service that allows you to save 5%-20% off of items enrolled. When you are an item's page you the Subscribe and Save option will appear under the normal checkout option.
This is the setup screen and you have the option to choose the quantity and frequency of your delivery. You also can see the savings that you get from Subscribe and Save and the discounted price. Your Subscribe and Save items come once a month and the delivery date is noted on your order screen.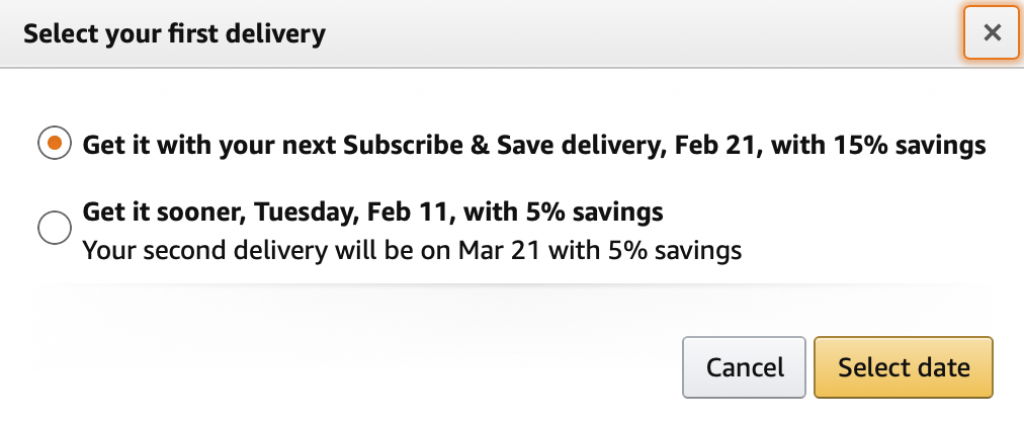 If you click "change" next to your delivery date you have the option to get the item sooner. You will frequently get the smaller discount if you choose to get the item outside of your normal delivery window.
You can manage your subscriptions here. Make sure to manage your subscriptions every month to avoid unwanted deliveries.
Tips and Tricks
Coupons and sale prices only apply to the first delivery. Subsequent deliveries are at the regular price.
You can cancel your delivery after the first delivery to avoid getting it in the future.
If you want multiple of the same item and choose multiple in one order, it counts as one of the five items towards a greater discount. If you do separate orders of one, each order will count as one towards the five items.
Add-on items that require a $25 minimum, ship for free as Subscribe and Save items.
If you "skip" an order you will lose out on any coupons or discounts associated with that item.
If you only plan on getting one delivery of a product, set the delivery frequency to six months to give you a longer period to cancel your next subscription.
Once you reach five items for an order, all items in that order get the larger discount.
If you do not have five items, you can add inexpensive filler items to get you to five items. This often makes the order less expensive overall.
Environmental Concerns
Amazon's same day, next day and two-day shipping options are not very environmentally friendly. Often packages are flown when using Amazon Prime shipping. Using Subscribe and Save reduces the number of packages that your order comes in and it allows items to be shipped via ground, which is more environmentally friendly than by air.