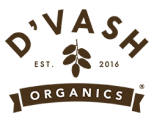 D'vash: Organic and Vegan Syrups and Nectars
D'vash Organics is a small food startup that was founded in 2017. It was started by David Czinn and Brian Finkel and initially had one product, date nectar. Their product line has grown to four products over the past several years: date nectar, date syrup, sweet potato nectar, and cayenne date nectar. They did launch one product, date nectar sticks, that has since been discontinued.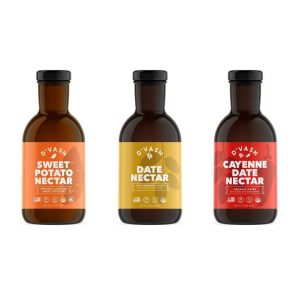 D'vash Organics Date Products
D'vash Organics has three sweeteners made from dates: nectar, cayenne nectar, and syrup. All of them are made by heating dates in 190F water. The pits and outside skin are then filtered out. The remaining product is a syrup/nectar that is in between the consistency of maple syrup and honey. The product has no added sugar and is a great sweetener that has 25% less sugar than honey.
D'vash Organics Date Nectar is made from organic California grown dates and is packaged in glass bottles. Dates are the only ingredient.
D'vash Organics Cayenne Date Nectar is date nectar with cayenne pepper added to give it an extra kick.
D'vash Date Syrup is a more economical product. It is produced the exact same way as the date nectar, but it is made from imported non-organic dates. It also comes in a recyclable plastic bottle, not a glass bottle.
D'vash Organics Sweet Potato Products
D'vash Organics Sweet Potato Nectar is a natural plant-based sweetener made in the same manner as their date based sweeteners. It is a single ingredient product made from organic Carolina sweet potatoes. It contains ~20% less sugar than their date nectar.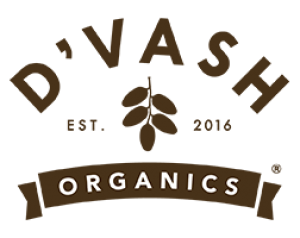 D'vash Organics
D'vash Organics is a great small startup in the food industry. All of their products are paleo, vegan, gluten-free, and kosher. The only product that is not certified organic is D'vash Date Syrup. The products are available at numerous grocery stores and at Amazon.