Expired
Foodstirs Organic, Non-GMO Snickerdoodle Blondie Mix for $3.18 Plus $1.00 No Rush Credit
Lowest price at Amazon on Foodstirs Organic, Non GMO Snickerdoodle Blondie Mix for $3.18. Clip the 20% off coupon. You can choose no-rush shipping for $1.00 Digital Service credit.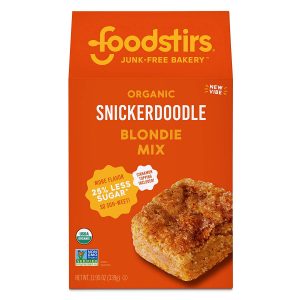 Contains 1 – 13 Ounce Snickerdoodle Blondie Mixes.
Foodstirs Organic Snickerdoodle Blondie Mix makes blondies that taste just like scratch.
A single box of organic blondie mix makes about 16 blondies in about 35 minutes.
Each mix uses only 6-10 organic and non-GMO ingredients that can be traced back to the source.
Made from natural ingredients that are vegan, non GMO, Kosher Pareve and USDA Certified Organic.