Hippeas Organic Chickpea Snack Review
Hippeas is a relatively new player in the organic snack food business, starting in 2016. They are owned by a holding company, Green Park Brands, that started in 2015 with offices in London and California. The founder of the company is Livio Bisterzo, an Italian who developed multiple brands in Europe before trying his hand in the organic snack business.
Hippeas are manufactured in the United States and in Ireland by contract manufacturers. In order to get the crisp texture special extrusion machines are needed.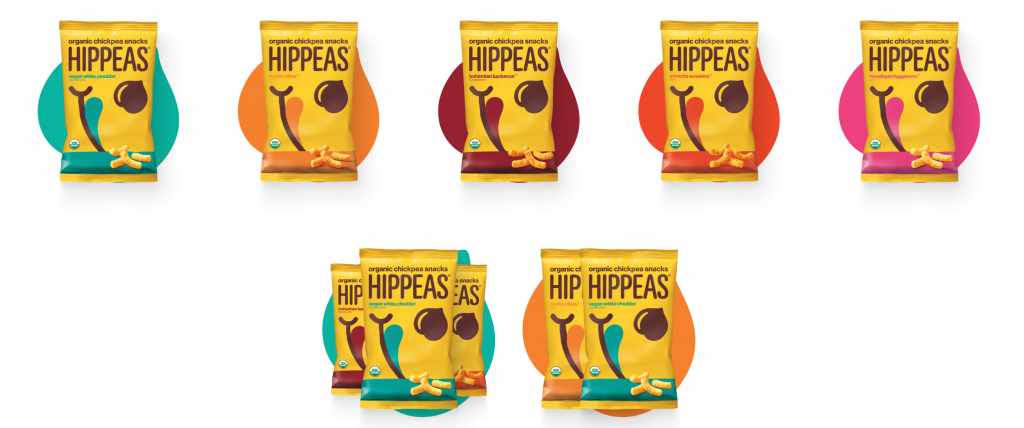 Hippeas Organic Chickpea Snack
Hippeas started by releasing its first, and main product organic chickpea puffs in 2016. They were initially producing six flavors, but are now producing seven main flavors White Cheddar, Bohemian Barbecue, Sriracha Sunshine, Himalayan Happiness,  Pepper Power, Far Out Fajita, and Nacho Vibes.
All of Hippeas Chickpea Puffs are non-GMO project certified and organic. No artificial flavors, colors or preservatives are used. Hippeas products are dairy-free and gluten-free. The products do not contain any tree nuts, peanuts, eggs, wheat, soy, or milk.
Even though some of the flavors mention cheese, all of the Hippeas products are vegan. Citric acid, fruit, and vegetable extracts are used to add the cheese flavor. Some of the flavors list "yeast extract" as an ingredient. Hippeas states that "The Yeast Extract we use does not contain ingredients from animal origin, therefore considered vegan."
The best part is that Hippeas puffs taste good. The texture is crisp and not soggy. My favorite flavor is Himalayan Happiness, a simple salt flavor that tastes great with the chickpea puff texture. My second favorite is White Cheddar. It has a great cheese flavor, even though it does not contain any cheese. If you enjoy more bold flavors, Far Out Fajita, Nacho Vibes, and Sriracha Sunshine are the way to go. I am not a giant fan of BBQ flavors so I can't give an objective opinion on Bohemian Barbecue.
One thing that speaks highly of the snacks is that Hippeas claims that they have a 39% conversion rate from their demo Hippeas giveaways. That is an incredibly high conversion rate from getting a free product to purchasing that product.
Hippeas Organic Tortilla Chips
Hippeas started producing organic tortilla chips in December 2019. Their tortilla chips are also organic, non-GMO, gluten-free, and vegan. They have three flavors Straight Up Sea Salt, Rockin' Ranch, and Jalapeno Vegan Cheddar. Straight Up Sea Salt chips are like traditional tortilla chips. The other two flavors, Rockin' Ranch and Jalapeno Vegan Cheddar are more like slightly thicker Doritos than traditional tortilla chips.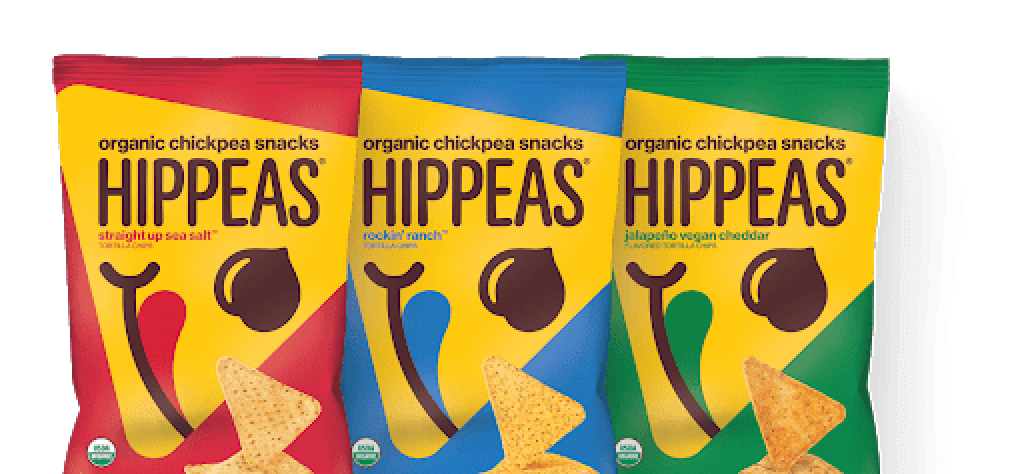 Environmental
Hippeas sources most of their chickpeas from Africa. They donate a portion of their profits to Farm Africa. They are also investing a lot of money in Ethiopia to create a sustainable supply chain. They are working on creating a fair-trade co-op there, where they will source most of their chickpeas.
Buying Hippeas Products
Hippeas Chickpea Puffs have wide store distribution in the United States and the United Kingdom. They are sold at everywhere from Starbucks to Target to Whole Foods to Costco and most places in between. Hippeas Tortilla chips are only available at Whole Foods stores.
Hippeas has wide internet distribution of their chickpea puffs. You can buy them directly from Hippeas, but they often do not have the best price.
Amazon offers a wide range of Hippeas products and good prices. They offer variety and single flavor packs.
Conclusion
Hippeas is a newer player on the organic snack food scene, but they are not small. It is estimated that they are doing $100 million in sales a year. Hippeas Organic Chickpea Puffs taste great and are a good alternative to traditional snacks. Check out our current organic deals to see if there are any deals on Hippeas at the moment.
If you like Hippeas Chickpea Puffs make sure to look into Kibo Chickpea Chips.