Expired
KIRIKURA Vegan Chemfree Sunscreen Broad Spectrum, UVA/UVB, SPF 30, for $3.74
Edit: This product does not have good water resistance, a little sweat will wipe it away. I am not marking it as expired because it is expired, but because I do not like the product.
Amazon has a great price on KIRIKURA Sunscreen Broad Spectrum 150ml, SPF 30, for $3.74. This is an amazing price for ~5 ounces of titanium dioxide and zinc oxide sunscreen.
I cannot find a whole lot of information on this company. They have a Facebook page, but it does not appear they have a website. It looks like they are based out of India. This same sunscreen is sold out at Walmart for $34.42. I don't know if that is a price mistake or if this is a screaming deal.
I did order this product and am excited to try it. If the deal is still alive when I get it, I will update the post. Amazon is showing a longer shipping time than normal so that might not be for two weeks.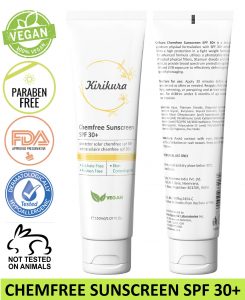 Titanium Dioxide Micronized and Zinc Oxide
150ml, 5.07 fluid ounces
Vegan formulation.
Non-comedogenic formulation free from parabens, sulphates and phthalates.
The Advanced formula utilizes a photos table blend of trusted physical filters, titanium dioxide and zinc oxide, to provide broad spectrum protection.
A complete protection against both UVA and UVB exposure to effectively defend against signs of photo aging and tanning of the skin.
A non-greasy and non-sticky formulation which does not cause white casting of the skin.
Help even skin discoloration for normal, combination or sensitive skin.