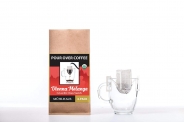 Expired
MÜHLHAUS COFFEE Organic Travel Pour Over Coffee 65% Off, $3.75 for 8 Cups
Alive again: It is now $3.75 for 8 single use packets of this pour over coffee. Click the 10% off coupon and at the checkout page enter coupon code 65QCPC8Z. The base price of this has been raised from $9.99 to $14.99, but the combination of the 65% and 10% off coupon brings the price to $375, $3.50 is the lowest I have seen.
Amazon has a great coupon on MÜHLHAUS COFFEE Organic Travel Pour Over Coffee for 65% off. This brings an 8 pack to $3.50. I have used this coffee before and it is the best travel coffee I have come across. The kit comes with a filter that rests over the coffee cup and you pour the water through. A downside is that it does take a little while for an entire cup of water to filter through since the filter is not overly large.
At the checkout page under payment options add the promo code 65EBK9M6 to get 65% off. Select No-Rush Shipping and get $1.50 digital credit
All products on sale. Please note that this page is showing some in-stock products as out of stock.