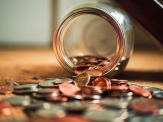 When a Deal is NOT a Deal
I love a good deal. Something is enticing and exciting about getting a steal on a product. Hunting for and getting bargains can become addictive. The BBC notes that "shopping a sale can give you the same feeling as getting high." Truer words have not been spoken.
It is exciting to get a great price on a product that you want. My goal at Natural & Organic Deals is to get you a great deal on products you want or need. Not all of the deals that I list are relevant to everyone or things that you want.
It is now easier than ever to find deals on natural, organic, vegan, and gluten-free products. There has been a huge influx of new products in the natural, organic, vegan, and gluten-free markets. The increase in competition has caused prices to become more competitive. It has also resulted in more sales and deals.
I fully support getting a good deal, but it is essential to remember purchasing a product that you don't need, just because it is a "good deal," isn't a deal at all. It can be hard to turn down a great price on a good product, but if you don't need it, there is no reason to buy it.
Rest assured that if you miss a deal or skip a deal, another deal will come along. It might be on a different product, or it might be even better on the same product. We strive our best to find the best natural deals, organic deals, gluten-free deals, and vegan deals available.