Expired
Bausch + Lomb Ocuvite Eye Vitamin and Mineral Supplement with Lutein, 60 Count Bottle, $3.46-$4.46
Amazon has the lowest price ever on Bausch + Lomb Ocuvite Eye Supplement for $3.46-$4.46 after clipping the $5.00 off coupon and using Amazon Subscribe and Save.
-This price requires Amazon Subscribe and Save. If you add five or more items to your monthly Amazon Subscribe and Save order you will get the lower price. The higher discount is applied automatically to all items in your Subscribe and Save order.
-You can add cheap filler items to Subscribe and Save or delay your shipment in order to reach five or more items with Subscribe and Save.
-You can cancel subsequent shipments after your first order is shipped.
-If you do not have Amazon Prime, using Subscribe and Save will provide free shipping with no minimum order amount.
-Our Subscribe and Save tips show you how to get the most out of Subscribe and Save.
-Amazon Subscribe and Save is the most environmentally friendly way to order from Amazon.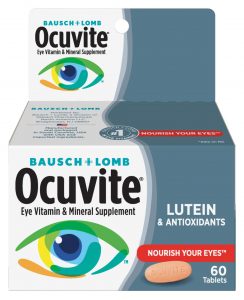 OCUVITE LUTEIN & ANTIOXIDANTS: This eye supplement from Bausch + Lomb contains Lutein as well as other nutrients that are important to healthy eyes, including Vitamin A, Vitamin C, Vitamin E, Zinc, Selenium & Copper. Eye Nutrition for Today.
OCUVITE EYE VITAMINS: Ocuvite eye vitamins focus on one thing – supporting your eye health. With gummies, chewables, formulas with the benefits of a daily multivitamin & eye vitamins for adults over 50, Ocuvite supports your eyes at all ages of adulthood.
EYE VITAMINS FOR HEALTHY EYES: Bausch + Lomb carries a full line ocular supplements with vitamins, minerals and nutrients that promote eye health, including Ocuvite eye vitamins for general eye health and PreserVision for age-related eye health concerns.
BAUSCH + LOMB EYE CARE EXPERTS: In 1853, John Jacob Bausch opened an optical good store in Rochester, New York. Since then, Bausch + Lomb has continued to focus on innovation and quality in eye care products, from contact lenses to lubricant eye drops.
BAUSCH + LOMB EYE SUPPLEMENTS: Eye health is more than good vision and at Bausch + Lomb, we're focused on all aspects of healthy eyes. Try our eye health vitamins and supplements if you've used supplements from Smarty Pants, iCaps, Trunature, or Viteyes.