Guide to Benefits and Using Wool Dryer Balls
I bet that you have heard of someone using dryer balls. Our guide to wool dryer balls goes over the ins and outs of why you should be adding wool dryer balls into your laundry routine.
Using Dryer Balls
There are several benefits of using drying balls. The big one is reducing the overall drying time which saves energy. Other benefits of dryer balls include reducing wrinkles, reducing static, and softening clothes. Wool dryer balls can also capture fibers like human and pet hair.
Reducing Drying Time
When you dry clothes without dryer balls, wet clothes tend to stick together until they reach a certain point of dryness and then naturally start to separate. Dryer balls work by creating space between articles of clothing in the dryer drum, even if they are wet. The increased space between articles of clothing allows for better circulation of air among the clothing, leading to faster drying.
Many dryer ball manufacturers claim that they reduce drying time by 20-40%. I think that this is a little optimistic, but it is very realistic to see a 10-25% decrease in the drying time. This can equate to a big decrease in energy expenditure over the course of a year
Reduce Wrinkles and Soften Fabric
When dryer balls hit fabric they agitate the fibers. Agitating the fibers prevents them from forming stiff bonds to adjacent fibers. I have found a noticeable reduction in wrinkles when using dryer balls.
Many dryer ball manufacturers claim that this also leads to softer fabrics. I think that the softness of fabric can be difficult to really tell since it is subjective. I do not notice a huge increase in the softness of laundry using dryer balls, but I know people that say it does.
Reduce Static Cling
Static typically builds up in laundry if you over-dry laundry. If you over-dry laundry, with or without dryer balls, you will notice static cling. Wool dryer balls get wet during the drying process and then gradually dry. This increases the humidity of the dryer and gives you a greater cushion of how long you have before the laundry becomes over-dry.
Synthetic fibers like polyester can also lead to static cling. If you wash synthetic fabrics separately you can also help reduce static cling.
Types of Dryer Balls
There are two main types of dryer balls, wool, and plastic. I think that wool dryer balls are significantly better than plastic ones. Wool dryer balls are better at removing pet hair from clothes since they are able to trap it among the wool fibers. Wool dryer balls also can do a better job reducing static than plastic ones since they absorb moisture. One benefit of plastic dryer balls is that they tend to indefinitely where wool dryer balls often only last for a handful of years.
I think that the less plastic and petrochemical products we use the better and when there is a natural option, all the better.
There are some articles that recommend using tennis balls as an alternative for dryer balls. I do not recommend that for a couple of reasons. Tennis balls are harder than wool dryer balls and can potentially cause stress on your dryer's drum, they also are really loud. The dye from tennis balls can transfer to your clothes and they are made from chemicals that are not designed to be heated.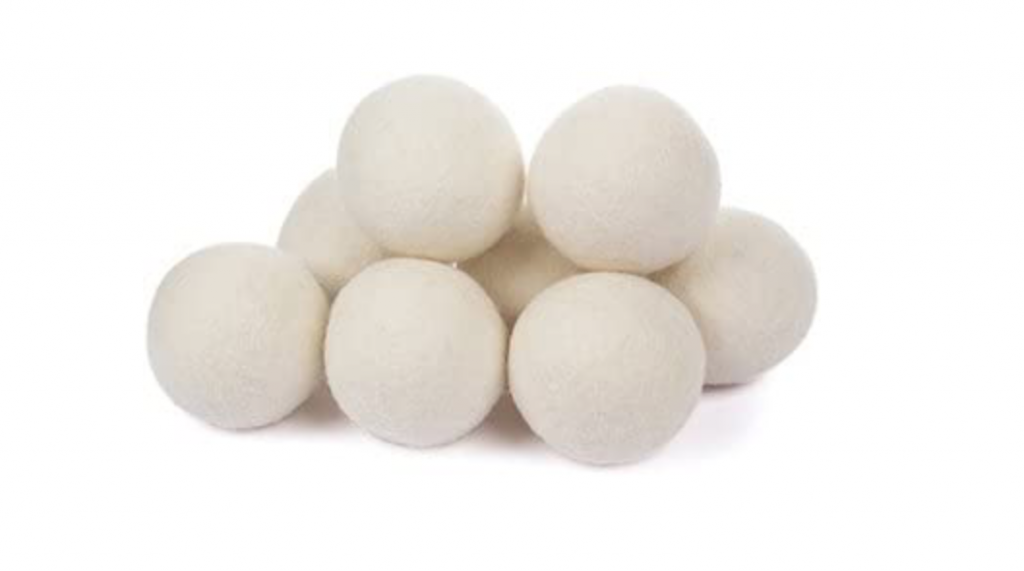 Common Problems with Dryer Balls
Wool dryer balls do collect lint and other materials among the fibers. If you use the same dryer balls with dark and light colors you might notice some white lint on your dark clothes. You can solve this by having a set of dryer balls for light colors and a set for dark colors.
Dryer balls do not add a pleasant scent to your clothes like chemical dryer sheets. You can add essential oils to your wool dryer balls if you want a scent with your clothes. You can either add a few drops about an hour before use or use a syringe to internally add a little essential oil. Either method should last several drying cycles.
If your dryer balls are not reducing the amount of static in your laundry try prewetting them by either dunking them in water or spraying them with water. This will still reduce drying time and increase their static reducing abilities.
One important thing to keep in mind with dryer balls is that if you overfill your dryer you will get less benefit from them since they will not have as much room to move around in the dryer.
Conclusion
Wool dryer balls are a great way to use less energy when drying your clothes. They also are a natural, chemical-free way to get clothes that are softer, have fewer wrinkles, and less static. Make sure that you check out our article on natural eco-friendly laundry detergents.
You do not need to break the bank when purchasing dryer balls. There are many affordable options available from Amazon.
These dryer balls are made from organic New Zealand wool. Most of New Zealand's wool is processed in China and these are also processed in China. They have not processed as much as some other wool products so they are brown in color and may not be uniform in color.
These are cheap dryer balls form a company that is not as well established. They do not mention where the wool comes from.
A well-reviewed dryer ball that is affordable. They mention organic in the title but do mention it anywhere else. Normally a company emphasizes organic if it is organic. They do mention that they use New Zealand wool.
These dryer balls have over 4,000 reviews on Amazon. They are made from organic New Zealand wool. These are a little more expensive than some of the other options, but they are a known quantity.