Puracy Household Products and Company Review
Puracy is a small natural, eco-friendly household product company based in Austin, Texas. It was started by Sean Busch and Paul Tracy and has grown to 10-15 employees. Puracy does not manufacture the products, but contracts to Bayscience Formulators in Dudley, Massachusetts. Bayscience formulates, produces, and packages the products.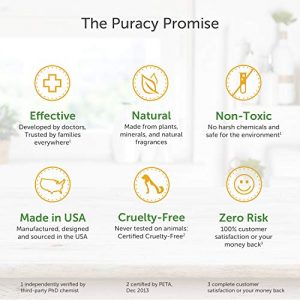 Ingredients
Puracy creates a wide range of natural household cleaning products. They claim that every Puracy formula is at least 99.5% natural. The term "natural" is not regulated by the FDA so Puracy provides its definition of natural, which most companies do not do.
For Puracy, a "natural ingredient" means it started from a natural, renewable source found in nature with absolutely no petroleum** compounds. Here are some examples of "natural ingredient" sources we use: coconut, lime, salt, olive oil, sunflower seed, green tea, geranium, corn, ginseng, pink grapefruit, sesame seed, vanilla bean, and many more. A "natural ingredient" may also be identified as plant-based, plant-derived, or naturally derived. For Puracy, a "natural product" means that more than 99% of the ingredients, by concentration, are considered "natural ingredients," per our definition above. Additionally, a "natural product" is 100% biodegradable.

https://puracy.com/pages/what-natural-means-to-us
During my research on natural and eco-friendly cleaning products, Puracy is one of the most upfront about the ingredients in its products. Every ingredient in every product has its own webpage which explains the ingredient, including where it comes from and the purpose in the product.
Puracy does a good job of explaining why and when they use synthetic ingredients.
We are legally required by law to use a synthetic non-natural ingredient. For instance, the Environmental Protection Agency (EPA) requires the use of a preservative from their approved list in our dishwashing and laundry products. This list includes a number of synthetic ingredients but no natural ingredients which will work with our formulas.

There is not a readily available natural alternative ingredient to choose from, or when the inclusion of the natural alternative would destroy the effectiveness and overall quality of the product as determined by our development team of Ph.D. chemists.

https://puracy.com/pages/what-natural-means-to-us
Most of Puracy's products receive an A rating from the Environmental Working Group. This is a higher average rating than many of the larger players in the natural household products sector.
Puracy packages all of their products in plastic containers made from polyethylene Terephthalate, PET(E). They all are recyclable and are #1 recyclables.
Products
Puracy has three main product lines: household cleaning products, body care products, and baby products.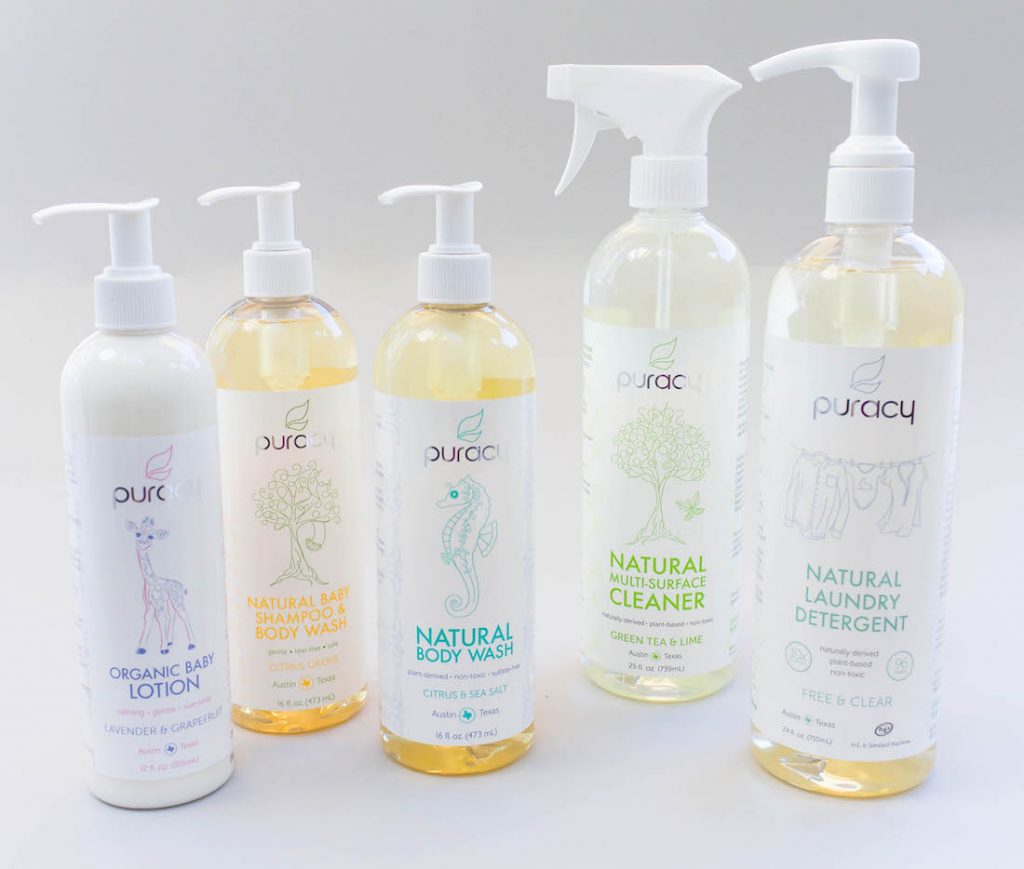 I really like that Puracy's cleaning products actually work. Many products that are eco-friendly and natural cleaners do not work as well as their conventional cleaner counterparts. Wirecutter awarded Puracy Multi-Surface Cleaner as the best "all-purpose cleaner" in 2017.
Puracy has a wide range of baby products. It ranges from products specifically formulated for babies like Puracy Baby Shampoo and Body Wash. Other products like Puracy Baby Laundry Detergent are the same components of the normal product with a different label.
I really like that Puracy offers refill packets of many of their products. This reduces the amount of plastic waste associated with refilling cleaning products.
Buying Puracy Products
Puracy products have a wide online and store distribution network. Puracy products are carried at Target and other retail stores.
Purchasing from Amazon and directly from Puracy tend to be the cheapest place to buy Puracy products. Amazon carries the complete Puracy line and most of the products are available with Amazon Subscribe and Save.
You can also order Puracy products directly from Puracy. If you order $35+ you qualify for free shipping. Puracy has a rewards program that can actually make it cheaper to order directly order from Puracy. If you sign up for their award program you get a $10 credit (this is a referral).
Puracy rewards program also has a loyalty component where one point is worth the equivariant of $0.01. You earn 5% back on purchases, but also earn the equivalent of $10 on your birthday and $1-$3 for doing various online tastes like following Puracy on Instagram.
Conclusion
Puracy is a great natural products company. Their products truly do work and a lot of thought has gone into the formulations. Puracy Laundry Detergent was the best eco-friendly detergent in our rankings. Check out our current household deals.