Expired
Teas' Tea Organic Cold Brew Green Tea, Unsweetened (Pack of 12) for $8.93-$9.98
The lowest Amazon price on Teas' Tea Organic Cold Brew Green Tea, Unsweetened (Pack of 12) for $8.93-$9.98.
-This price requires Amazon Subscribe and Save. If you add five or more items to your monthly Amazon Subscribe and Save order you will get the lower price. The higher discount is applied automatically to all items in your Subscribe and Save order.
-You can add cheap filler items to Subscribe and Save or delay your shipment in order to reach five or more items with Subscribe and Save.
-You can cancel subsequent shipments after your first order is shipped.
-If you do not have Amazon Prime, using Subscribe and Save will provide free shipping with no minimum order amount.
-Our Subscribe and Save tips show you how to get the most out of Subscribe and Save.
-Amazon Subscribe and Save is the most environmentally friendly way to order from Amazon.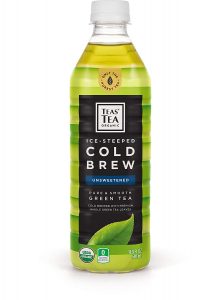 COLD BREW GREEN TEA: Steeping whole organic tea leaves in ice produces a cleaner flavor that highlights the naturally mellow sweetness of the tea, with higher levels of amino acids & less caffeine.
REFRESHINGLY GREEN: Green tea has long been revered for its high antioxidant content & as part of traditional Japanese tea ceremonies. It's the perfect refreshment for your health & well-being.
TRY THEM ALL: We make a wide variety of delicious tea blends in Unsweetened, Slightly Sweet & Ice Steeped Cold Brews. Try our mint, chamomile, jasmine, peach ginger, raspberry black & so much more!
SUSTAINABLE & ANTIOXIDANT RICH: Our teas are harvested from sustainable tea farms & made with whole tea leaves, never powders or concentrates. Naturally rich in catechin antioxidants & EGCGs.
MINDFULLY MADE: Thoughtfully sourced & mindfully made, we aim to bottle the world's best ingredients to create the purest tea possible. Made with just water, tea, essential ingredients & natural flavors.