Expired
HIPPEAS Organic Chickpea Puffs, Variety Pack, 1.5 ounce, 12 count
Expired
Tied for the lowest price ever from Amazon, yesterday this was selling for $18.45. Click the $3.00 off coupon and use Subscribe and Save to bring the price down to $9.74-$12.24 depending on the number of Subscribe and Save items.
-This price requires Amazon Subscribe and Save. If you add five or more items to your monthly Amazon Subscribe and Save order you will get the lower price. The higher discount is applied automatically to all items in your Subscribe and Save order.
-You can add cheap filler items to Subscribe and Save or delay your shipment in order to reach five or more items with Subscribe and Save.
-You can cancel subsequent shipments after your first order is shipped.
-If you do not have Amazon Prime, using Subscribe and Save will provide free shipping with no minimum order amount.
-Our Subscribe and Save tips show you how to get the most out of Subscribe and Save.
-Amazon Subscribe and Save is the most environmentally friendly way to order from Amazon.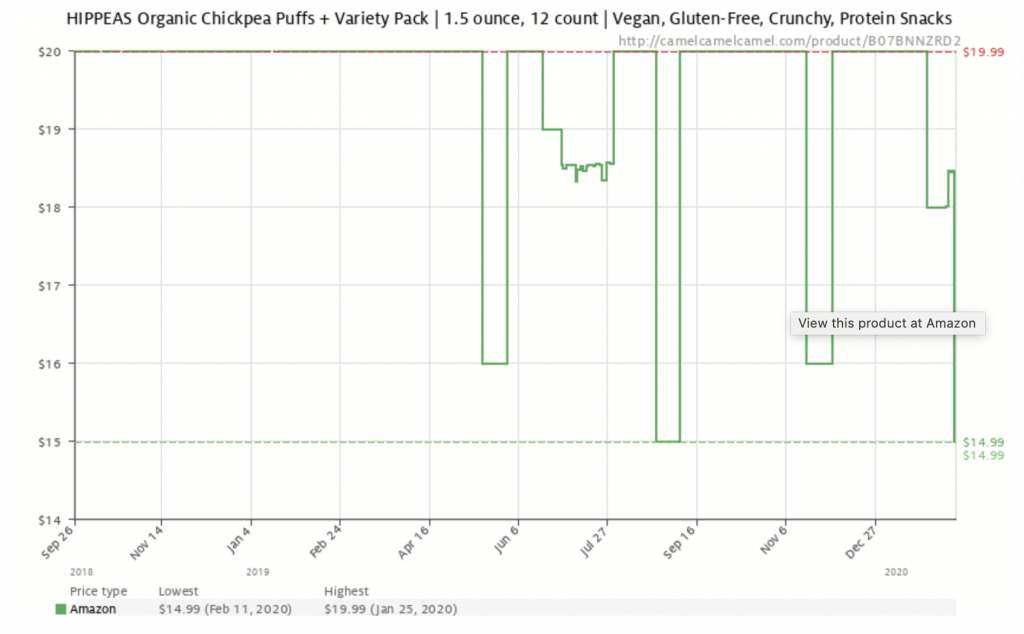 1.5oz Variety Pack (12ct), A variety pack for the true HIPPEAS fan. Stock up with a case of our best sellers: 4 bags of Vegan White Cheddar, 4 bags of Bohemian Barbecue and 4 bags of Sriracha Sunshine.
What are HIPPEAS? Organic Chickpea Puffs are made from the humble, but mighty legume baked into a light and crunchy puff.
GOODNESS FOR MIND BODY & SOIL – HIPPEAS are USDA Organic, Certified Gluten-Free, Vegan, Kosher, Non-GMO, with No Peanuts, Tree Nuts, or Soy. With 130 calories, 4g of Protein and 3g of Fiber per 1 ounce serving, HIPPEAS are the new go-to snack for those who demand great taste and high-quality ingredients for themselves and their families. Better snacking for all!
GOOD FOR THE EARTH – Did you know Chickpea plants naturally release nitrogen back into the earth as they grow? They're good for the planet, simply by being themselves.
PEAS, LOVE & GIVING BACK – HIPPEAS believes that "tastes good" and "do good" should go hand in hand. That's why they give back to local charities!
Short-dated HIPPEAS Organic Chickpea Puffs + Vegan White Cheddar, 12 count, are available from Amazon Warehouse for $7.50.