San Pellegrino Flavor Reviews
San Pellegrino makes a wide variety of sparkling beverages ranging from unflavored mineral water to sweetened flavored sparkling water. San Pellegrino started in the town San Pellegrino Terme, Italy. There are references as early as 1509 to the famed mineral water in San Pellegrino Terme. In 1899 the company that became San Pellegrino was formed and started hand bottling their water. In the 1930's they started using machinery to bottle their water and now bottle over 1,000,000 bottles a day. San Pellegrino was purchased by the Swiss commercial giant, Nestlé, in 1997.

San Pellegrino got its fame because of its mineral water that contains over 10 different minerals. The water's journey starts in the Alps and takes over 30 years of filtering through rocks to reach the springs at San Pellegrino Terme. San Pellegrino publishes its water analyses report on a regular basis which tests for over 175 organic and inorganic substances. San Pellegrino is not naturally carbonated. Carbonation was first added in the 1900s to prevent bacterial formation during shipping. Many of San Pellegrino's product say "natural CO2 added." San Pellegrino extracts natural CO2 from naturally super carbonated water in Tuscany and then adds it to their water from San Pellegrino Terme.
San Pellegrino has multiple lines and they do not all contain the same water or carbonation. San Pellegrino has two separate divisions: S. Pellegrino and San Pellegrino Fruit Beverages that have different websites and multiple lines under each division. San Pellegrino started using different water in the different divisions during the 1970s.
S.Pellegrino Line
S.Pellegrino is made with the traditional mineral water from the springs at San Pellegrino Terme. The line is carbonated with natural carbonation from Tuscany and has delightful soft bubbles.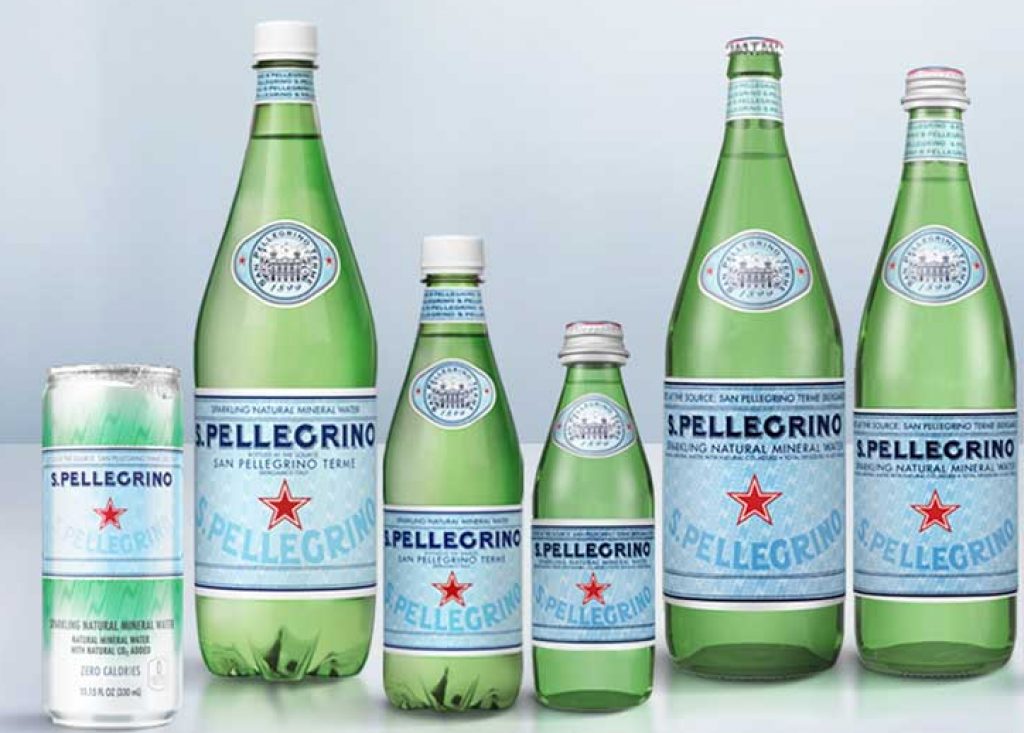 S.Pellegrino
S.Pellegrino is San Pellegrino's famous traditional water with added natural carbonation. The carbonation is delicate and soft, creating bubbles that dance on the tongue. You can tell that S.Pellegrino is mineral water and not just spring water. It is a slightly acidic water with a pH of 5.6 and contains even more minerals than some other sparkling mineral waters like Perrier. You cannot taste the individual flavors of the 10+ minerals that comprise San Pellegrino's mineral water, but the combination adds a very minerally tang to the water. I am not giving the traditional water a rating since it would not compare to the ratings of flavored sparkling water, but it is very enjoyable.
S.Pellegrino Essenza
S.Pellegrino Essenza combines the great flavor of San Pellegrino's mineral water with natural flavors to create a bold unsweetened sparkling water. S.Pellegrino Essenza does not contain any sugar, artificial sweeteners, fruit juice, or artificial flavors.
San Pellegrino Fruit Beverages
San Pellegrino Fruit Beverages are comprised of three lines: Traditional, &Tè, and Momenti. San Pellegrino no longer uses their traditional mineral water in their Fruit Beverages. They now use "normal" spring water. They also do not use "natural carbonation," like they do in their mineral water products.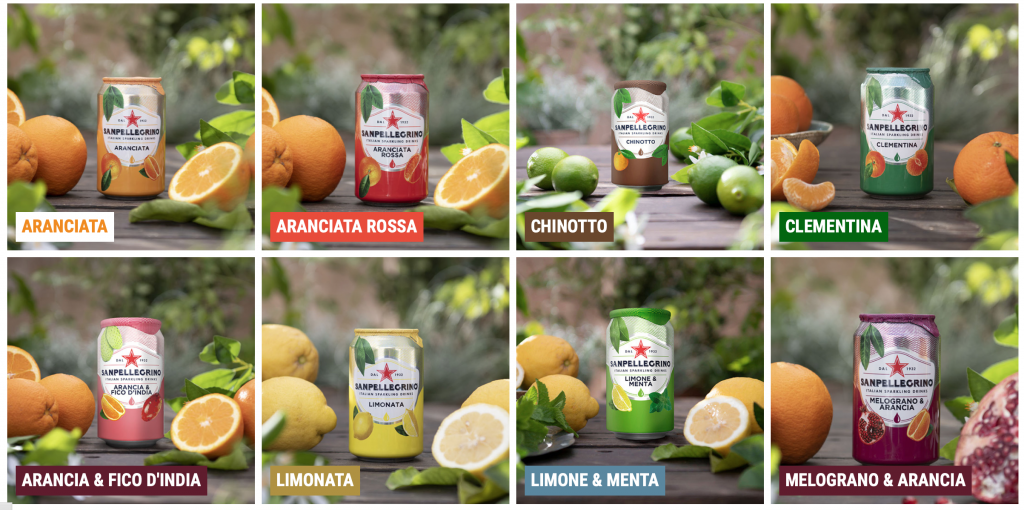 Traditional Line
San Pellegrino's Traditional line is one of their oldest lines of flavored. sparkling beverages. The Traditional line uses fruit juice and sugar to derive its flavor. They do not use artificial sweeteners or flavors. This line contains the most amount of sugar of any on San Pellegrino's line, 24-31 grams per can. San Pellegrino reformulated some of their products in 2019-2020, slightly changing the amount of sugar in some of their drinks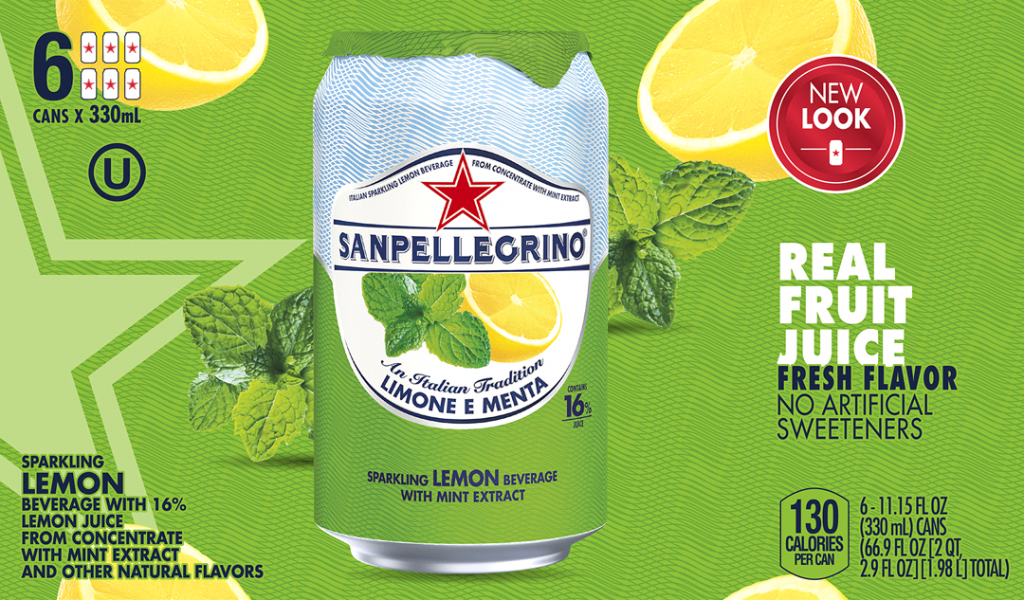 San Pellegrino Limone e Menta (Lime and Mint)
10/10
San Pellegrino Limone e Menta combines 16% lemon juice, peppermint extract, and 28 grams of sugar to make my favorite flavor of the Traditional line. The first flavor on the tongue is a sour tartness. The flavor rolls into a more developed balanced lemon and sweetness with a distinct mint taste. The flavor ends with a lingering tart mint taste. The sugar and mint do a great job of masking the 16% lemon juice that you are drinking. This flavor tastes a lot less sour than Limonata. You can read our detailed review of Limone e Menta if you want more details.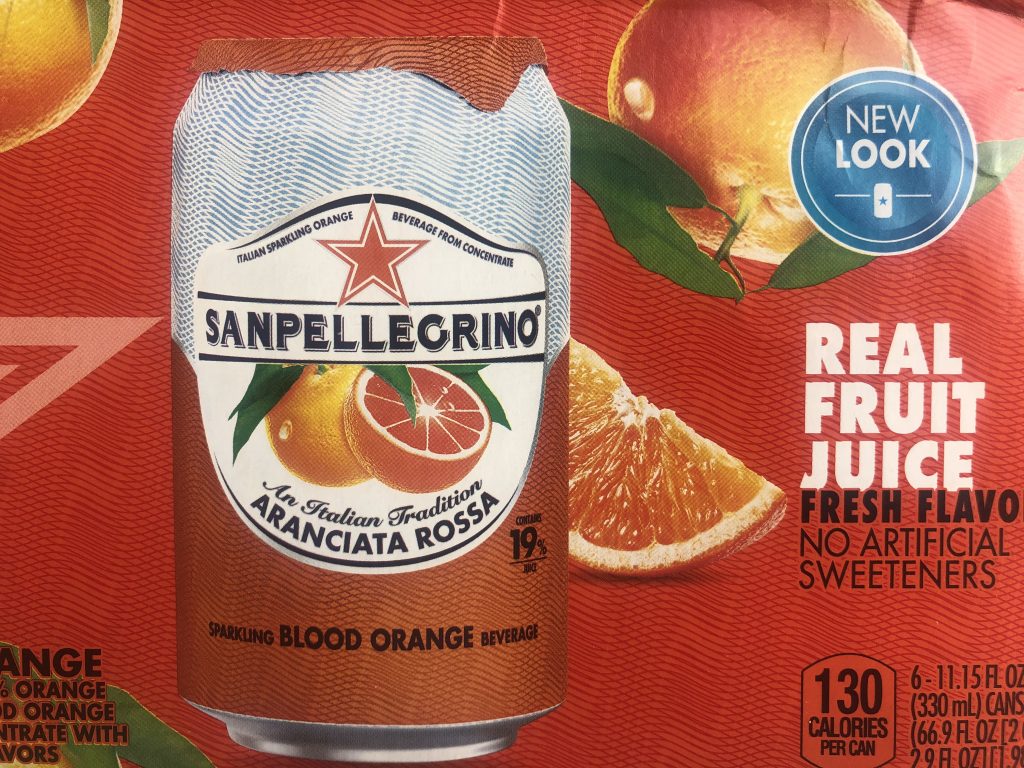 San Pellegrino Aranciata Rossa (Blood Orange)
7/10
San Pellegrino Aranciata Rossa is 16% orange juice and 3% blood orange juice. It has a beautiful orangish pink color with white bubbles. Even though it is 19% juice it has a very mellow taste. The flavor is not as bold as some other flavors, but it is good. The flavor starts with a sweet citrus flavor and the orange flavor develops in the middle of the taste. The taste ends with a well balanced subtle sweet and tart flavor. There is a lot of sugar in San Pellegrino Aranciata Rossa, 29 grams, but it does not taste as sweet as some other flavors. Read our full review of San Pellegrino Aranciata Rossa.
San Pellegrino Limonata (Lemon)
8/10
San Pellegrino Limonata is a sweetened sparkling beverage that punches a sour bunch. It is 16% lemon juice and you can taste it. It has 26 grams of sugar per can, compared to 39 grams in a can of Coca Cola. The sweetness starts to balance the acidic lemon sour taste, but the tartness is more apparent than sweetness. I really like a can of a Pellegrino Limonata with a couple of ice cubes outside on a hot day. It is tart enough that I don't think that I could have more than one at a time. Read our full review of San Pellegrino Limonata.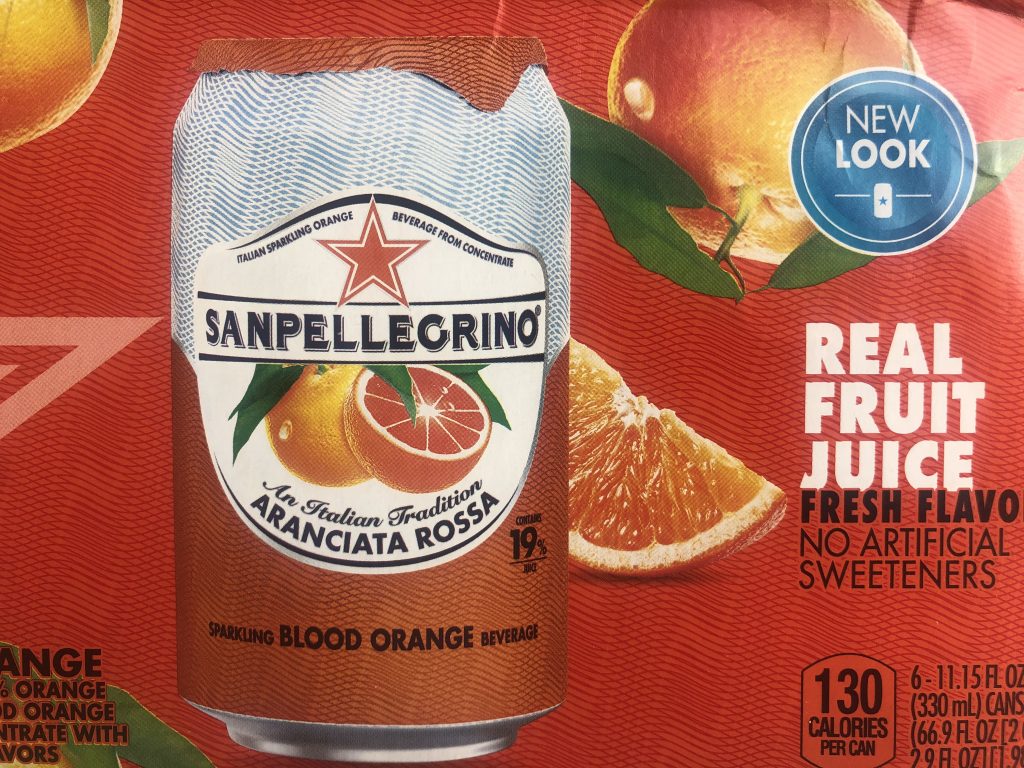 San Pellegrino Prickly Pear and Orange
5/10
San Pellegrino Prickly Pear and Orange is comprised of 10% orange juice and 6% prickly pear juice. The smell has a sweet citrus scent. The first flavor that hits my tongue is a muted sweet floral citrus flavor that is hard to nail down exactly what it is. I get a distinct orange flavor mixed with a floral sweetness in the middle of the taste. The taste ends with the floral sweetness. Overall, the flavor is not very bold, it is one of the more nuanced flavors in the Traditional line. If I am drinking a "full sugar" sparkling water, I prefer the flavor to be bolder than San Pellegrino Prickly Pear and Orange.

Fruit & Tè Line
San Pellegrino Fruit & Tè line is their only organic line exported to the United States. They combine tea, derived from tea extract, fruit juice, sugar, and sparkling water. The Fruit & Tè line has a medium amount of sugar, less than the Traditional line, but more than the Momenti line.
Limone & tè (Lemon & Tea)
7/10
San Pellegrino Limone & tè is a medium sweetened sparkling tea with lemon beverage. It has an acidic lemon flavor blended with a mild tea taste and sweetness. The flavor is derived from a blend of 3% lemon juice, 1% orange juice, black tea, and cane sugar. Even though San Pellegrino Limone & tè contains less than half the sugar as Coca Cola, the sweetness is very pronounced. I would prefer this sparkling beverage to be less sweet. Read our detailed review on San Pellegrino Limone & tè.

Momenti Line
San Pellegrino's Momenti line is flavored by 6%-8% fruit juice and lightly sweetened with sugar. Each can contains 7 grams of sugar and 35 calories. This creates a slightly sweet sparkling beverage that still has a bold flavor.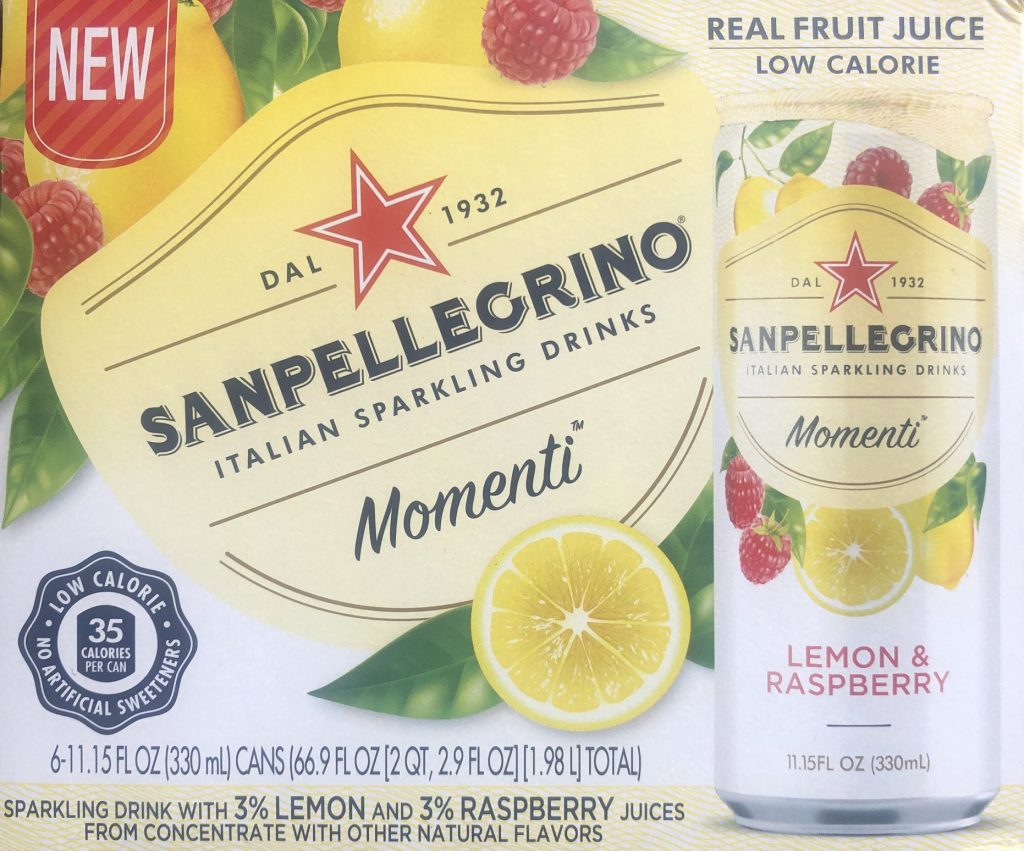 San Pellegrino Momenti Lemon & Raspberry
7/10
San Pellegrino Momenti Lemon & Raspberry gets its flavor from 3% raspberry juice, 3% lemon juice, and 7 grams of sugar. It pours a pinkish-orange color with a bright head. The first thing that I noticed was the bright bubbles smacking into my tongue along with a semi-sweet acidic flavor. The flavor then builds into a tart raspberry flavor and ends with a lingering raspberry flavor. The tart lemon juice does a great job of complementing the sweet raspberry juice, adding more tartness than lemon flavor. The raspberry flavor is surprisingly strong and distinct. San Pellegrino Momenti Lemon & Raspberry is a great balance between an unsweetened Essenza and the full-sugar Traditional line.
San Pellegrino Flavor Overview
San Pellegrino has many different lines of sparkling beverages. They range from the traditional water that flows from the springs at San Pellegrino Terme to spring water with fruit juice and sugar. They have a beverage for just about every occassion. It can be very difficult to find San Pellegrino's entire line in stores, but it can be found at Amazon.